Friday | Saturday | Sunday
go to Main Stage times | go to Arena times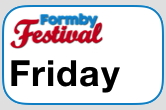 Family Evening in the Park:
Showground opens at 5pm. Family entertainment in the centre of Formby.
Buy tickets here.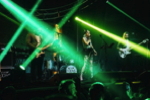 Live music from the 80s, 90s, 00s, up to today.
Flash: The No.1 Queen tribute band.
Grease: Cinema in the Park. On the big screens, for one night only! Buy tickets here.